"Funny-furious"
— Canadian Art
"Bugs is one of the strangest, funniest, most mystifying and most profound contemporary films I know."
— Sheila Heti
 
"Bugs lets loose theatre, comedy and some great outsiders into the streets of Toronto. It simply reclaims and renames all found there — a familiar world that is completely new and already dirty. It is hard not to leave the cinema with changed eyes, seeing all that is Bugs when you are back out in the streets."
— Margaux Williamson
 
Now out on DVD and VHS, on Random Man! In stock at Art Metropole (Toronto), Printed Matter (NYC) and Desert Island (NYC).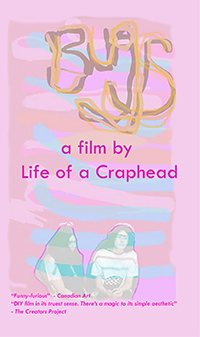 ABOUT
Featuring situations like a university lecture gone wrong and a failed SNL episode, Bugs presents the absurdity of life within a patriarchal society obsessed with success. The DIY film sets the Bug universe right in the middle of the real world, creating multiple layers of reality that interact with each other. Produced over 2011-2015 with a large cast and crew of artists and comedians.
SYNOPSIS
Bugs is a satire about a bug society and its most successful family. The Bug Prime Minister, Shay (Gerry Campbell), has ruled the Bug Garden for many years and is finally, reluctantly, retiring. He's chosen his niece, Gaston (Liz Peterson), to take over -- but Gaston, who is plagued with ambitions to be the Bug Garden's most respected politician-architect-filmmaker -- is folding under the pressure. Dan is his other niece, but she's a dreamer and can't be trusted; she's full of conflicting ideals and tries to act on all of them.
Shay goes to the Oracle for advice and they foretell that his family can't be saved. Meanwhile, a government worker/aspiring comedian Sexy Bug (Glenn Macaulay) and his best friend Rob (Peter Kalyniuk) are sick of the Shay family's rule. They plot to vandalize a monument being built to honour the family. From afar, the neighboring Bird Country celebrates another Bug political failure.
CREDITS
Bugs (74 min., 2015)
WRITTEN, DIRECTED, EDITED & PRODUCED
Life of a Craphead (Amy Lam & Jon Mccurley)
STARRING
Liz Peterson
Glenn Macaulay
Peter Kalyniuk
Gerry Campbell
Lisa Smolkin
Kayla Lorette
Mr. Fly
WITH
Jess Carvalho
Connor Crawford
Zoe Solomon
Jesi the Elder
Seth Scriver
Jonny Peterson
Neil Lapierre
Bridget Moser
Sean O'Neill
Charlie Murray
Daniel Goodbaum
Laura McCoy
Agnes Forfa
and more
 
PRODUCTION DESIGN
Laura McCoy

MUSIC
Andrew Zukerman

SOUND DESIGN & MIX
Cricket Cave (Zoe Gordon & Shayne Ehman), Matt Smith
3D ANIMATIONS
Steph Davidson

VFX
Zak Tatham
 
DP FOR 2012/2014/2015
Chris Boni

DP FOR 2011
Augustina Saygnavong

SOUND RECORDISTS
Matt Smith
Andrew Zukerman
Zoe Gordon
Shayne Ehman

WEBSITE DESIGN
Marlo Yarlo
PRODUCED WITH THE ASSISTANCE OF
the Canada Council for the Arts
the Toronto Arts Council
the Ontario Arts Council
Double Double Land
The Western Front
Xpace Cultural Centre
The Art Gallery of Ontario
Trinity Square Video
LIFT
William F. White
The Macdowell Colony
Gendai Gallery
WEIRD THINGS


Bugs—the debut feature film from performance artists Life of a Craphead—is a satire about a bug society and its most powerful family. 
SUMMER 2016

LOS ANGELES, CA
Night Gallery, *U.S. Premiere*
June 16
PORTLAND, OR 
S1, co-presented with Stand Up Comedy
June 29
NEW YORK, NY
Parsons School of Design
Room M101 (Bark Room)
Sheila C. Johnson Design Center, 2 W 13th St.
Wed July 6, 8pm
Spectacle
Thurs July 7
2 screenings: 7:30pm & 10:00pm
BALTIMORE, MD 
The Crown, hosted by Wham City
July 12
PHILADELPHIA, PA 
PhilaMOCA
July 13
HAMILTON, ON 
Hamilton Artists Inc.
July 21
MEAFORD, ON 
Electric Eclectics Festival
July 29-31
ST. JOHN'S, NL 
HOLD FAST Contemporary Arts Festival, Eastern Edge Gallery
August 18-21
PAST SCREENINGS

HALIFAX, NS
Sunday May 29th, 5pm
Art Bar, 1973 Granville St.
Art in Fest/Obey Convention, Khyber Centre for the Arts
GUELPH, ON
Saturday April 9th, 9pm
Kazoo! Fest

LONDON, ON
Friday Feb. 26, 2016, 8pm
London Ontario Media Arts Association (LOMAA)
MONTREAL, QC
Thursday Feb. 11, 2016, 8pm
La Plante, 185 Van Horne

TORONTO, ON
World Premiere at the Art Gallery of Ontario, Jackman Hall
Friday Dec. 4 & Dec. 11th, 2015, 8pm
VANCOUVER, BC
Early version screened (with accompanying installation by Laura McCoy) at The Western Front
Jan. 17–Feb. 21, 2015